Exquisite Teas and coffee for you-Earth To Jar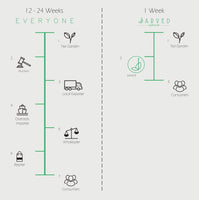 How Jarved ensures freshness of your products!
The traditional means of selling FMCG products involves a long process of auction, storage and logistics at multiple points before reaching the customer. 
At Jarved, we procure our ingredients straight from the organic farms and eliminate all middlemen reducing the cost and time to reach our customers. 
We pride ourselves on holding a seasonally changing collection instead of dead stock. 
Hence, be assured of the freshness of all our products.